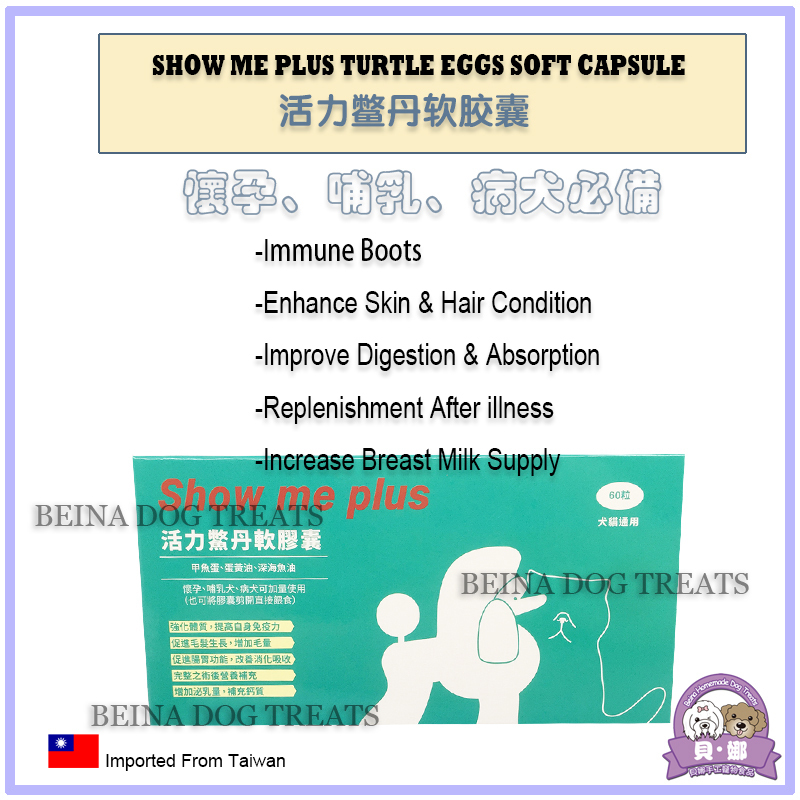 提高免疫,对皮肤,胰腺有很好的修复肠胃黏膜
强化消化功能含有OMEGA-3.EPA.DHA

🌻强化体质,提高自身免疫力
🌻促进毛发生长,增加毛量
🌻促进肠胃功能,改善消化吸收
🌻手术后的营养补充
🌻增加泌乳量,补充钙质

净重:60粒,每粒600mg
适用对象:犬猫通用
成分:甲鱼蛋、蛋黄油、深爱鱼油 《怀孕、哺乳犬。病犬可加量使用(也可将胶囊剪开直接喂食)》
建议用量(每日):0.5kg 幼犬猫/1粒
0.6-10kg /1粒
10-20kg 2粒
20kg以上 3粒

-------------------------------------------------------------------------------

🌻Immune Boost
🌻 Enhance Skin & Hair Condition
🌻 Improve Digestion & Absorption
🌻 Replenishment after Illness
🌻 Increase Breast Milk Supply

Net weight: 600mg x 60 Capsule
Ingredients: Sofyshell turtle eggs powder, Egg yolk oil, Deep sea fish oil
(Dogs & Cats during pregnancy or lactation are recommended to increase daily dosage)

Directions for use (daily):
1 capsule per day under 10 kg
2 capsules per day for 10-20 kg
3 capsules per day for more than 20 kg

For Dogs & Cats


Our home made treats contains of no preservative at all,
once open up please use the zip provided on the plastic to close it up,
consume it within a month to keep it freshness.
Not open can be kept up to 6-9months,
keep it at sheltered area without direct sun contact,
treats that contains more oil can be kept in the fridge.

All order will normally takes 5-10 working days,
it all depends on the order waiting list.