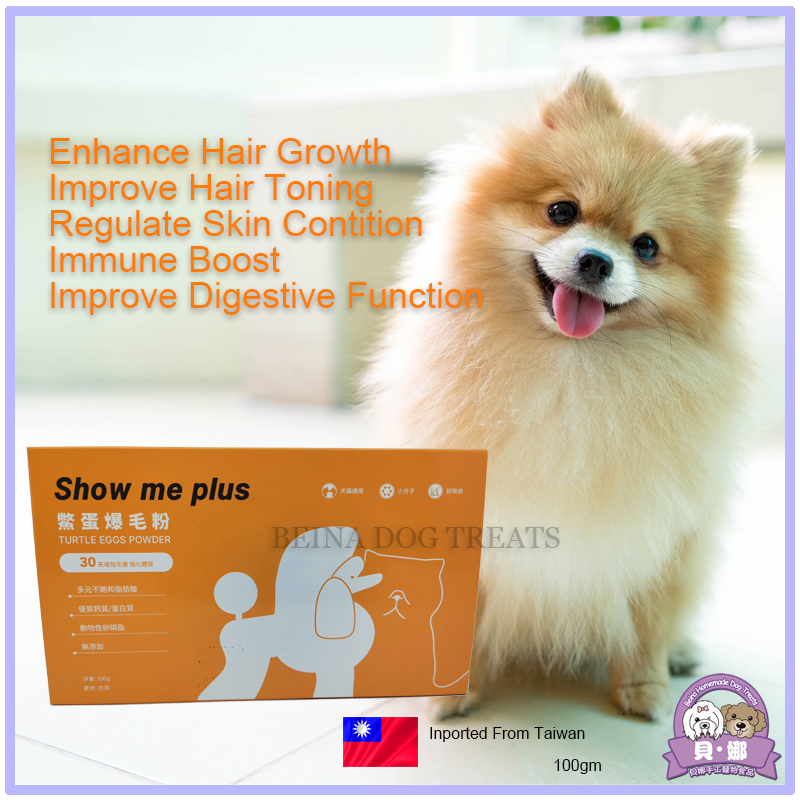 💯台湾进口人气活力鳖蛋爆毛粉

你的宠物不可或缺营养补充剂,目前广泛运用在美容检定模特犬及赛场犬只,不仅能增加毛发健康,更能强化体质,整肠健胃功能。

内包装为铝箔密封夹链袋,可防止鳖蛋粉极易氧化的特性,彻底挥发活力帮鳖蛋粉的效能!

用途:增加毛量、增加毛色亮度、皮肤病治疗与预防、促进色素沉淀、增强体质、提高免疫力、促进分泌乳汁。

适用症状:毛发稀疏、体质瘦弱、哺乳期、皮肤病、胃肠功能失调。

适用对象:犬、猫、其他小动物通用。
成分:鳖蛋粉、啤酒酵母、水解蛋白、卵磷脂、天然小麦芽。

——————————————
Functions : enhance hair growth, improve hair toning, regulate skin contition, immune boost, improve digestive function

Net weight: 100g

Directions (daily):
1-2 spoons per day under 5 kg
2-3 spoons per day for 5-10 kg
3-5 spoons per day for 10-20 kg
5 spoons per day for more than 20kg

For Dogs & Cats

SHOW ME PLUS Turtle Eggs Powder
📌 Small Molecules
📌 Good Absorption
📌 Enhance Hair Growth & Strengthening Physical Fitness in 30 days
📌 Improve Hair Toning
📌 Regulate Skin Condition

ATTENTION‼️
Store in cool & dry place, away from direct sunlight. Once opened, Can only be kept 7 days under room temperature or 6 months in refrigerator. Keep away from children.

Ingredient : Softshell turtle eggs, brewer's yeast, hydrolyzed protein, lecithin, natural wheat germ



Suitable for Dogs & Cats / Small Animals





Our home made treats contains of no preservative at all,
once open up please use the zip provided on the plastic to close it up,
consume it within a month to keep it freshness.
Not open can be kept up to 6-9months,
keep it at sheltered area without direct sun contact,
treats that contains more oil can be kept in the fridge.

All order will normally takes 5-10 working days,
it all depends on the order waiting list.