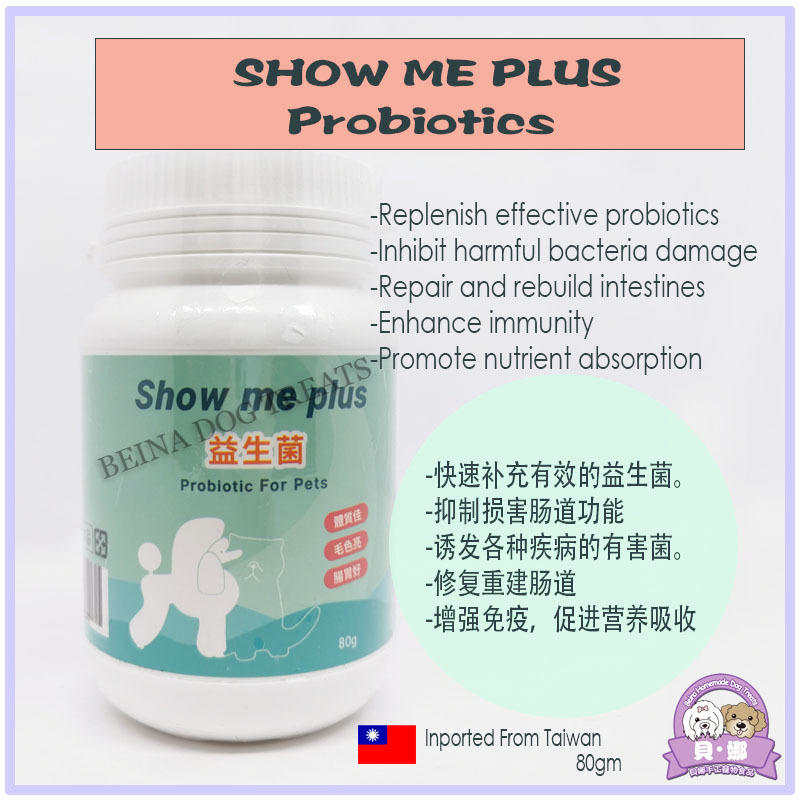 如何挑选益生菌?最重要的就是益生菌的活性,市面上很多益生菌都是死菌比例占多数,摄取充足的活性益生菌,才会赋予身体健康和各种益处。而死菌见效慢,用量大,功能低。


Show Me Plus 益生菌三大功效:
1:快速补充有效的益生菌。

2:有效抑制损害肠道功能,诱发各种疾病的有害菌。

3:修复重建肠道,增强免疫,促进营养吸收。手术抗生素治疗后的恢复期,可迅速调整肠道微生态环境、提高健康水平。

品名:益生菌
成份:
Lactobacillus acidophilus(A菌),
Bifidobacterium bifidum 双叉杆菌(比菲德氏菌,
Lactobacillus paracasei 副干酪乳杆菌,
Lactobacillus rhamnosus 鼠李糖乳杆菌,
Lactobacillus plantarum 植物乳杆菌,
Lactobacillus fermentum 发酵乳杆菌,
Streptococcus thermophilus 嗜热链球菌,
Lactobacillus helveticus 瑞士乳杆菌,
Bifidobacterium longum 长双歧杆菌,
Bifidobacterium breve 短双歧杆菌,
Lactobacillus acidophilus 嗜酸乳杆菌,
日本专利乳果寡,麦芽糊精70%
喂食方法:
<5kg 1 匙
5-7kg 1½ 匙
8-10kg 2 匙
10kg> 2½ 匙


How to choose probiotics, the most important thing is the activity of probiotics.
Many probiotics on the market have a majority of dead bacteria.
Only when sufficient active probiotics are ingested can the body be given health and various benefits.
The dead bacteria are slow to take effect, the dosage is large, and the function is low.

Three benefits of Show Me Plus probiotics:
1: Quickly add effective probiotics.
2: Effectively inhibit harmful bacteria that damage intestinal function and induce various diseases.
3: Repair and rebuild the intestines, enhance immunity, and promote nutrient absorption. The recovery period after surgical antibiotic treatment can quickly adjust the intestinal microecological environment and improve health.
Directions (daily):
<5kg 1 spoon
5-7kg 1½ spoons
8-10kg 2 spoons
10kg> 2½ spoons
80gm
Our home made treats contains of no preservative at all,
once open up please use the zip provided on the plastic to close it up,
consume it within a month to keep it freshness.
Not open can be kept up to 6-9months,
keep it at sheltered area without direct sun contact,
treats that contains more oil can be kept in the fridge.

All order will normally takes 5-10 working days,
it all depends on the order waiting list.